MAJORCA, THE POETRY OF LIGHT
The Serra de Tramuntana, the outstanding topographical feature of the Balearic Islands, is home to vast natural spaces that, fortunately, have remained unaltered to this day. As a maritime mountain range, it contains a wide variety of environments, bestowing it with a remarkable wealth of landscape scenery.
Throughout the year, the angle of incidence of light, the weather, the conditions of the sea and other constantly changing variables, give rise to infinite combinations of natural phenomena in the Serra. The unique Mediterranean light suggestively transforms each and every detail of the landscape, creating unforgettable scenes of singular beauty.
Photographing the magical lights of Mallorca
The incandescence of the peaks illuminated by the last rays of the setting sun, the sheer violence of a storm lashing the coastline, or the exoticism of the island peaks shrouded in white all captivate the onlooker, evoking admiration and delight.
In nature, light and weather are one and the same. The understanding of their complexity, together with persistent, methodical ritual and a constant desire for improvement, have set me on the path to capture that perfect instant which, from my personal point of view, all landscapes possess. The search for every possibility afforded by a scene has allowed me to accurately depict the more extraordinary and beautiful side of Tramuntana, working from the heart and by prioritising the quintessential element in photography: light.
Photographs of the Serra de Tramuntana
My intimate connection with Tramuntana for more than three decades has allowed me to discover the grandeur of each of its landscapes and continues to deepen wherever subject and light captivate me: breathtaking panoramic views of the mountains; concealed, damp ravines or enticing seascapes.
Through this careful selection of "lights", I intend to show the more genuine and unknown side of the Serra de Tramuntana, an island within an island, and reveal the true heart of Majorca by promoting love and respect for nature. It is my hope that future generations may continue to be captivated by its magic.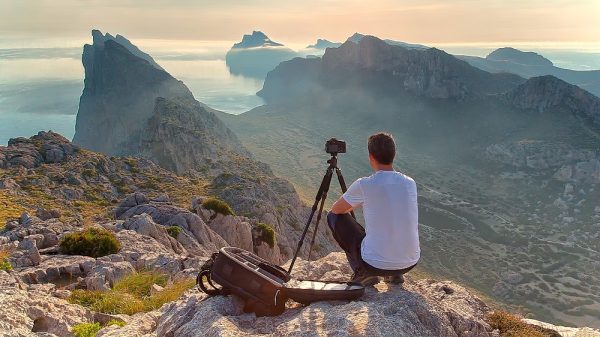 Marcos Molina is a specialized nature photographer in Mallorca.
Freelancer since 2010, in 2016 he received a first prize in the Glanzlichter international competition. In the same year he published his first book, «Llums de Tramuntana» («Tramuntana Light»).
Click here to access to Marcos Molina photographic portfolio >>